North American Port Terminal
The Challenge:
One of the largest North American Port Terminals had mission critical IT breaking down more than once.
The Uniserve Solution:
Uniserve Enterprise carried out an IT audit of their system, found the problems and provided solutions. They understand the importance of connectivity, a strong infrastructure implementation, data backups on the entire network, data storage off-site, flexible applications and security.
The Technology:
24/7 Managed Services for Business
Providing technical analysis, local Tier 2-3 IT support and connectivity.
IP Data Network Solution
Resilient, robust and expandable data network solution.
Security Solution
Diversified NGFW solution with centralized management center to provide less complexity, high visibility, and effective network segmentation.
Server and Storage Solution
A scalable and redundant server and storage architecture offsite.
Advanced Backup and Recovery Solution
Reliable and function-rich data protection solution for mission critical environment.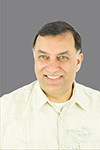 "At Uniserve Enterprise, we are agnostic IT Consultants who understand and augment our client's current IT ecosystems. We work to advocate for our clients and assess which IT technologies best fit with their current environment and align with their long-term organizational goals."
– Gurmeet Jutla, Vice President of Technology